Contact
KROGEN SOLDATEN ŠVEJK
Welcome to visit us at Östgötagatan 35.
HOW TO FIND US
We are located just a few minutes walk from Medborgarplatsens Metro station. Directions.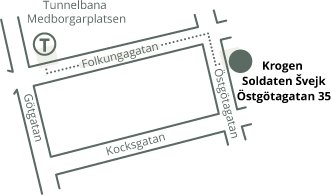 CONTACT
Östgötagatan 35, 116 25 Stockholm
E-mail: info@svejk.se
We do not take table reservations.
OPENING HOURS
Monday – Friday: 16.00-24.00
Saturday: 15.00-24.00
Sunday: 16.00-23.00
THE WEBSITE
Design by Decorus Design, construction by WebbMalin.
Text: Bosse Brink.